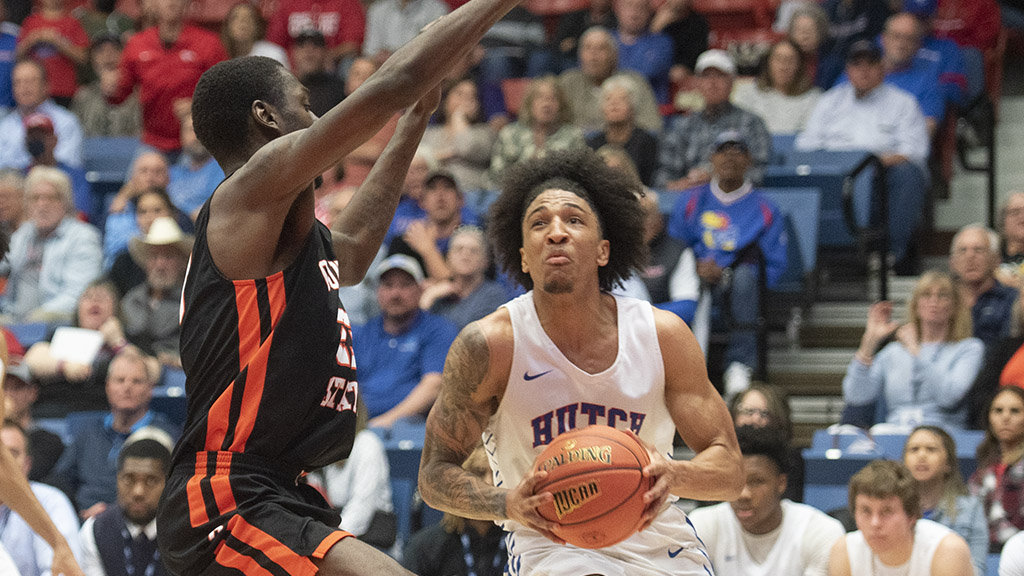 Hutchinson CC Sports Information
The 2022 Hutchinson Community College men's basketball team showed its trademark resiliency once again on Monday night and advanced to the second round of the NJCAA Division I Men's National Basketball Tournament.
The Blue Dragons rallied from 14 points down in the second half to take a late regulation lead, only to have Connors State's Mason Alexander drill a potential momentum-changing 3-pointer with 7.0 seconds left to force overtime. The Dragons once again trailed by two points in overtime with 2:19 remaining, but scored 7 of overtime's final 9 points to earn their 51st all-time NJCAA Tournament victory.
The 12th-seeded Blue Dragons rallied for a 101-98 overtime win over 21st-seeded Connors State in the final game on Monday. The first day of the national tournament featured three overtime games.
The Blue Dragons (26-8) advances to the second round to face fifth-seeded Chipola at 2 p.m. on Wednesday. Connors State closes the season at 28-6.
Hutchinson is now 14-5 in NJCAA Tournament opening-round games, including first-round wins in six-straight tournaments, which extended a Blue Dragon record.
The 14-point deficit is the third largest deficit the Blue Dragons have rallied from and won this season. Hutchinson has five wins this season when trailing by 10 or more points.
Sophomore Angelo Stuart posted his third 30-point game this season with game-high 30 points on Monday night. Stuart hit 9 of 18 total shots, including 4 of 10 from 3-point range and 8 of 9 from the free-throw line. Extending his single-season record to 102 3-poiners this season, Stuart is the first Blue Dragon to reach 100 made treys in a season.
Sophomore Kaimen Lennox scored 20 points, scoring 12 points in the second half and overtime. Lennox added six offensive rebounds and three steals.
Freshman Jayden Garrison provided a needed spark off the bench with 12 points and four rebounds. Garrison hit 2 of 3 3-point goals. Garrison is averaging 10 points per game in the postseason.
Sophomores Kobe Campbell and Jacquez Yow had nine points each.
The Blue Dragons shot 45.5 percent for the game (35 of 77), hitting 6 of 20 from 3-point range and 25 of 31 from the free-throw line. The Blue Dragons hit 18 of 21 free throws in the second half and were 4 of 4 from the line in overtime.
The Blue Dragons were-outrebounded 38-36, but had 16 offensive rebounds. The Dragons had only 12 turnovers to Connors State's 22 and outscored the Cowboys 29-14 in points off turnovers.
The Cowboys shot 60 percent in regulation, but went only 3 of 9 in overtime to finish at 56.3 percent from the floor (36 of 64). Connors State was 2 of 10 from 3-point range and 24 of 31 from the free-throw line.
Jahcoree Ealy had a team-high 20 points to lead the Cowboys. Xavier Glenn had 18 point and Alexander scored 17 points.
The Blue Dragons trailed by as many as 10 points in the first half at 43-33 with 2:17 to play. Hutchinson pulled within 44-39 after a Campbell dunk with 36 seconds to play, but Connors State led 46-49 after Alexander scored with 3 seconds remaining in the period. The Cowboys shot 59.3 percent (16 of 27) in the first half to Hutchinson's 45.9 percent (17 of 37).
The Dragons cut the deficit to five points twice early in the second half, but Connors State countered with a 14-5 run to take a 64-50 lead after a D.J. Basey layup with 13:45 to play in the second half.
Hutchinson countered that with a 13-3 run that included a Garrison 3-pointer that pulled the Blue Dragons within 67-63 with 10:17 remaining.
Trailing 75-69, the Blue Dragons scored eight unanswered, taking the lead on two Campbell free throws with 5:57 left and building a 78-75 lead on a Nate Goodlow steal and layup with 5:51 to go. There were six lead changes in the final 6 minutes.
Two Stuart free throws with 22 seconds left in regulation gave the Dragons a 90-87 lead, but Connors State tied the game with an Alexander 3-pointer with 7 seconds remaining.
A Goodlow tip-in gave the Dragons an early lead, but Connors State went on a 6-2 run to lead 96-94 after a Xavier Glenn bucket with 2:19 to play. The Dragons grabbed the lead on Stuart's fourth 3-pointer of the game with 2:06 left. A Goodlow layup pushed the Hutch lead to 99-96. Connors' Ealy scored with 11 seconds left. Stuart hit two free throws with 10 second left for a 101-98 lead. The Dragons got a tied possession with the arrow pointing toward Hutchinson to close out the game.
GAME NOTES – This was all-tie win No. 1,874 for the Blue Dragons. … Hutchinson is now 5-1 all-time against Connors State, 2-0 in the NJCAA Tournament against the Cowboys and 2-0 in overtime against CSC. … The Blue Dragons are now 51-26 all-time in the NJCAA Tournament, including 4-0 in national tournament overtime games. … Hutchinson extended its season record of 100-point games to 12 and extended its season 3-point record to 317. … The Blue Dragons are 3-1 in overtime this season. … The Blue Dragons are 7-6 this season when trailing at halftime and 6-7 when allowing opponents to shoot 50 percent or better.